Get natural relief from your knee arthritis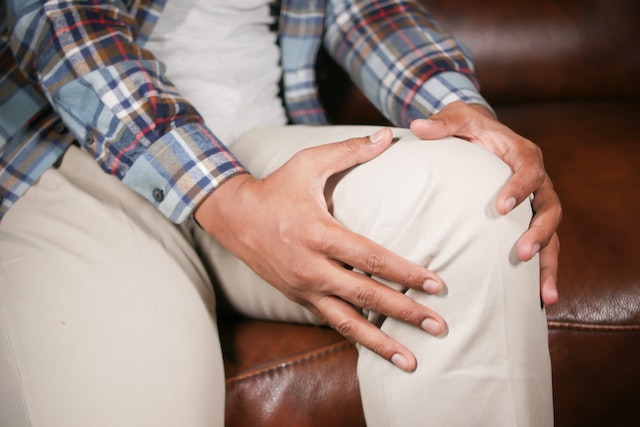 If you suffer from knee arthritis, you know it's a painful and restricting condition.
But it's good to know that there are gentle yet effective treatments out there that can help. Let's explore knee arthritis and how manual osteopathy can bring relief.
The term arthritis refers to inflammation of the joints. In fact, there are many different types of arthritis that can each affect different parts of the body.
The kinds of arthritis that normally affect the knee are osteoarthritis and rheumatoid arthritis.
Osteoarthritis tends to affect older people and occurs when the cartilage in the knee joint deteriorates.
Rheumatoid arthritis is an inflammatory autoimmune disease that can affect people of all ages. It's not restricted to one area but can affect many different joints simultaneously.
You may also develop arthritis in the knee following an injury. This is known as post-traumatic arthritis.
Symptoms of knee arthritis include:
Pain, especially first thing in the morning
Swelling
Tenderness
The knee giving way
The knee locking, making it hard to straighten
Cracking sounds when you move your knee
Reduced mobility of the knee
How to treat knee arthritis
Your doctor may recommend one or more types of knee arthritis treatment, including:
Lifestyle changes, including weight loss and gentle exercise
Non-steroidal anti-inflammatory drugs
Corticosteroid injections
Targeted medication for rheumatoid arthritis
Heat packs and cold pads to help with pain and swelling
If your quality of life is drastically affected, you may also be offered surgery to remove damaged tissue or replace the knee joint.
Knee arthritis and manual osteopathy
You may also wish to discover manual osteopathy for your painful knee. It's a tried-and-tested treatment that can relieve the pain of arthritis. In fact, a study (1) looked at the impact of exercise, acupuncture and osteopathy on knee arthritis and found that combining routine rehabilitation and osteopathy improved joint pain, movement and quality of life.
Your manual osteopath can offer you a variety of treatments to help ease pain and increase mobility. These include hands-on manual techniques to reduce spasms, pain and discomfort and increase mobility, as well as therapies that help trigger the body's own healing processes.
These include shockwave therapy, a highly effective treatment where an acoustic wave penetrates the tissue to stimulate collagen and blood vessel production and ease inflammation.
For relief from the discomfort of knee arthritis
Know more about TMJD relief
Find out more about gentle and effective manual osteopathy for knee arthritis at Osteo Health.
Call us at 403-814-0404 or book an appointment online at osteohealthcalgary.janeapp.com for a non-invasive solution to your knee arthritis.
Approved by Indira Ravaeva. Manual Osteopath. Member of National Manual Osteopathic Society and Osteopathy Australia.
1. Qu X, Zhou J, Zhai H, Chen W, Cai X. 'Therapeutic effect of exercise acupuncture and osteopathy on traumatic knee arthritis,' China Journal of Orthopaedics and Traumatology, 2019 June 25;32(6):493-497. doi: 10.3969/j.issn.1003-0034.2019.06.002.