Have you heard of craniosacral therapy? It's a gentle treatment that can help a whole range of health conditions.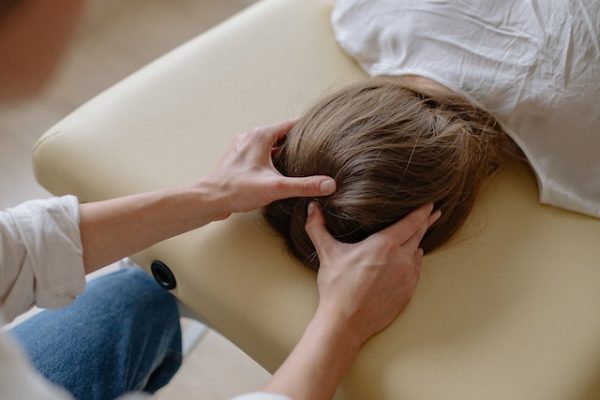 We'll find out more about this therapy and how it could help you in our latest article.
What is craniosacral therapy?
Craniosacral therapy is a gentle hands-on technique that relieves pressure in the bones of the head, sacrum (the triangular bone located in the lower back) and spine.
Pressure in these areas can lead to all sorts of health conditions like headaches and neck pain.
Putting pressure on and manipulating these bones can help restore balance and function to your musculoskeletal system, alleviating pain and helping to get you back to the best version of yourself.
A manual osteopath is an example of a professional who can carry out this technique.
When you go for your session, they will ask about your medical history and the symptoms that you are seeking help for.
The treatment itself is relaxing and non-invasive. You will lie fully clothed on a massage table while your manual osteopath applies pressure to and manipulates the bones of the skull, sacrum and spine.
Most people find this technique a pleasant and relaxing experience.
Because craniosacral therapy relieves pressure in the head, neck and spine, it can help with several conditions linked to these areas. It's also believed to help relieve emotional stress that can be connected to other conditions.
Here are some of the issues craniosacral therapy can help with:
Anxiety and low mood
Back pain
Constipation
Fibromyalgia
Headaches
Insomnia
Irritable bowel syndrome (IBS)
Neck pain
Temporomandibular joint disorder (TMJD)
Whiplash
Infant craniosacral therapy
Craniosacral therapy is even gentle enough to use on the youngest patients, helping babies who may have suffered physical stress or trauma during late pregnancy or birth.
Research (1) shows that craniosacral therapy is safe and effective for babies in reducing the effects of infant colic. In the study quoted, infants who experienced craniosacral therapy cried less, had less severe symptoms and slept better.
Infant craniosacral therapy can also be used to help treat conditions like constipation, difficulty feeding, which may involve tongue tie, and torticollis, where the head tilts to one side because of spasms in the neck.
Craniosacral therapy near me
To find out more about craniosacral therapy near you, call the Osteo Health team on 403-814-0404. Or book an appointment online at osteohealthcalgary.janeapp.com for a natural solution to your painful condition.
You can also check out our video on craniosacral therapy.
Approved by Indira Ravaeva. Manual Osteopath. Member of National Manual Osteopathic Society and Osteopathy Australia.
1. Castejón-Castejón M, Murcia-González M, Martínez Gil J, Todri J, Suárez Rancel M, Lena O, Chillón-Martínez R. 'Effectiveness of craniosacral therapy in the treatment of infantile colic. A randomized controlled trial,' Complementary Therapies in Medicine, 2019 Dec;47:102164. doi: 10.1016/j.ctim.2019.07.023. Epub 2019 August 13.
Other references used but not quoted in the article

1. Healthline website, 'Cranial Sacral Therapy,' September 18, 2018.

https://www.healthline.com/health/cranial-sacral-therapy#benefits-and-uses
2. EcoParent magazine website, 'What Craniosacral Therapy Can Do For Newborns,' April 22, 2019.

https://www.ecoparent.ca/eco-wellness/what-craniosacral-therapy-can-do-newborns