Clinic visit during pandemic COVID-19
As the COVID-19 cases are growing and the flu season have started, staying safe is very important. In this arduous time, the Osteo Health Clinic is the same safe place as always to improve your well-being. Learn more about how Osteo Health Clinic provides safe service during the COVID-19 pandemic to the clients in this article. Let's see how the clinic visit looks like during the COVID-19 pandemic.
What close COVID-19 contact is
First, it is worth defining what close contact is. Close contact of a person infected with COVID-19 is someone who: provides care, lives with, or has close physical contact without appropriate use of personal protective equipment, or comes into direct contact with infectious body fluids comes within 2 metres of them for more than 15 minutes. Therefore, it is so important to ensure safety.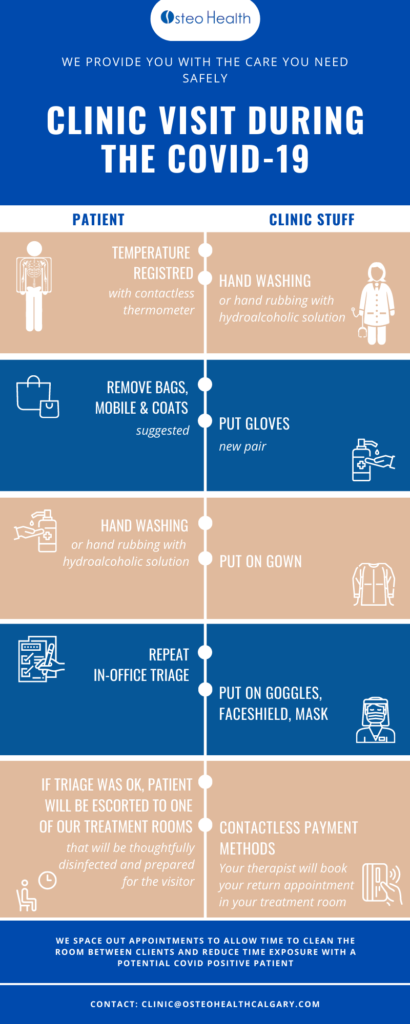 We make your visit to us safe
All our staff wears masks, face shields and other personal protective equipment.
Osteopathic Practitioners and clinic staff use the COVID-19 self-assessment tool daily.
We space out your appointments to allow time to clean the room between clients and avoid crowding the offices.
Contactless payment methods. It can be direct billing or secure online payment.
Please use the hand sanitizer at reception.
Procedures are changing too
Before receiving care, you can also expect staff to take your temperature and ask about COVID-19 symptoms.
If you arrive earlier before your appointment, there is no need to remain in your vehicle. You will be escorted to one of our treatment rooms that will be thoughtfully disinfected and prepared for you.
Your therapist will book your return appointment in your treatment room if our receptionist is busy with other clients to reduce or eliminate the time spent at our reception desk.
This protection does not cost you extra and our prices are as affordable as ever. Do not put off your health and make an appointment with a specialist now.
More information about COVID-19 targeted public health measures on the Alberta Health Service website.